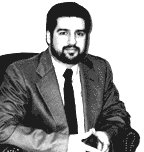 Barry L. Davis - aka - The Pastor's Helper
Senior Minister of Coon Rapids Christian Church - Coon Rapids, Minnesota

Education:
Trinity Theological Seminary - Newburgh, Indiana
Currently enrolled in Doctor of Philosophy (Biblical Studies) program
Johnson Bible College - Knoxville, Tennessee
1997 Master of Arts, New Testament Exposition and Preaching
Ozark Christian College - Joplin, Missouri
1994 Bachelor of Theology, Old Testament
Bachelor of Biblical Literature
Grove City High School - Grove City, Ohio
1981 High School Diploma

Publications:
Communion Meditation -- Christian Standard -- April 7, 1996
Tradition Is Good...If... -- Christian Standard -- September 28, 1997
Why Did Jesus Die? -- "Great Preaching 1997" -- published by Preaching Magazine
Hell Is Forever - Restoration Herald - September 1998
The Pastor's Helper Sermon Series Online - Click Here

Statement of Faith - Barry L. Davis
The Bible
I believe the Bible, in the original manuscripts, consisting of the Old and New Testaments, to be the only inspired, inerrant, infallible, authoritative Word of God written.
The Trinity
I believe that there is one God, eternally existent in three persons: Father, Son, and Holy Spirit.

Jesus Christ
I believe in the deity of Jesus Christ, in His virgin birth, in His sinless life, in His miracles, in His vicarious and atoning death through His shed blood, in His bodily resurrection, in His ascension to the right hand of the Father, and in His personal return in power and glory.
Salvation
I believe that salvation is found in no other name than that of Jesus the Christ. Salvation is by grace, through faith, in baptism, to perform good works.
The Holy Spirit
I believe in the present ministry of the Holy Spirit by Whose indwelling power and fullness the Christian is enabled to live a godly life in this present evil world.

The Resurrection
I believe in the resurrection of both the saved and the lost; those that are saved unto the resurrection of life, and they that are lost unto the resurrection of damnation.
Spiritual Unity
I believe in the spiritual unity of all believers in Christ.
The Return of Christ
I believe in the literal return of Jesus Christ.